Reg Organizer is a program designed to improve the quality of Windows 11, 10, 8, 7, configure and optimize installed applications, as well as clean unnecessary files. The utility has many advantages due to the wide range of available functions.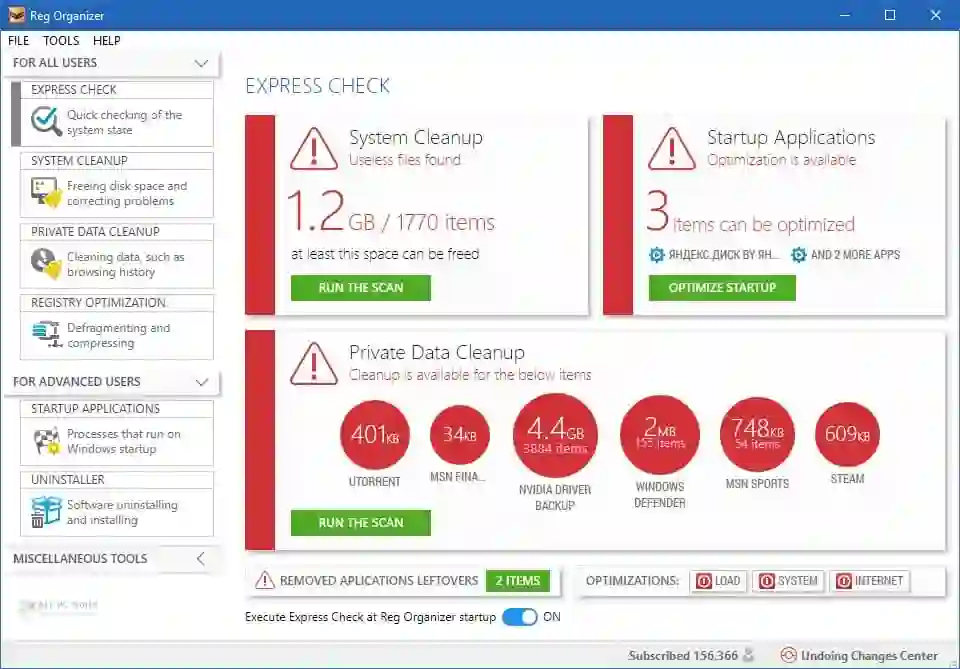 Program features
The fine-tuning function will allow you to customize the software system for a specific user, which will speed up your work.
Thanks to the built-in autorun manager, you can cancel the launch of unnecessary programs that automatically start when the computer is turned on. This will speed up its loading.
The advanced removal tool gets rid of unnecessary files that often remain after deactivating programs.
The optimization process is divided into compression and defragmentation. First, the registry files are compressed, after that, defragmentation combines the necessary registry files, which speeds up the system startup.
Useful functions of the program
Advanced system cleaning cleans the system registry thanks to the additional tools of the utility. The disk space of the computer is freed from outdated updates, temporary files and extraneous elements.
Reg Organizer finds and independently fixes all kinds of errors and entries that interfere with Windows.
Using the snapshot comparison function, you can monitor any changes that occur to the registry after they are created.
The built-in backup mechanism in the program allows you to undo recent changes. This function is relevant when the user makes a mistake.
The Quick search and replace mode shows all the items in one list at once. This speeds up the search for the right one, allows you to quickly delete all the necessary files or set the necessary parameters. At the same time, you will not need to search for each element separately.
Editing the registry has a unique feature. You can set parameters from one program to several others. It is also possible to edit registry keys.
The trial version of the program is absolutely free, but in order to have access to additional features of the system, you need to buy a license.
You can download the program from the official website.