Windows 10 Manager is a system utility that is designed to configure, optimize and clean up garbage on Windows 10. The program allows you to increase the speed of the operating system, as well as improve security and eliminate system errors.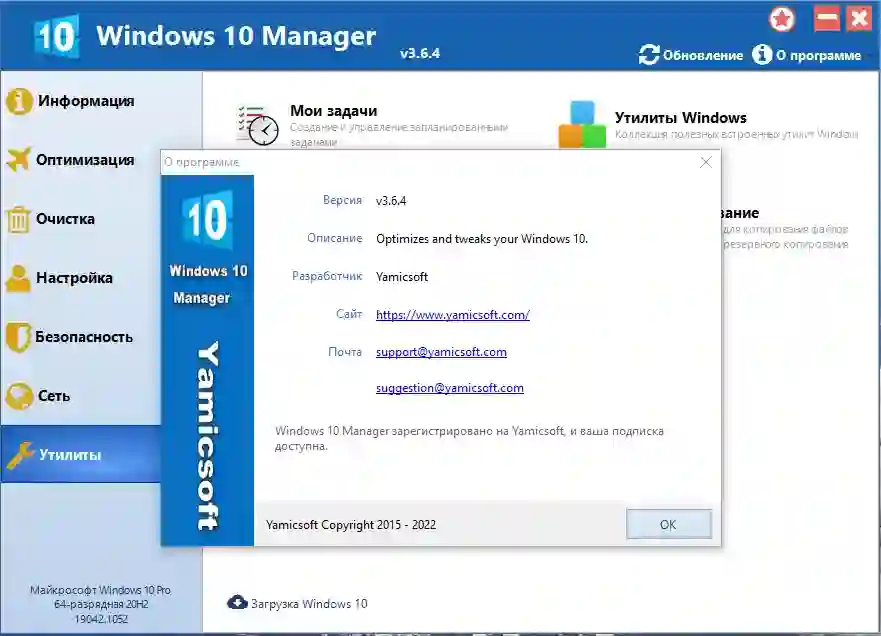 Requirements for Windows 10 Manager
For the full operation of the utility, you need to have an activated Windows 10 operating system. This will allow you to use this application without any restrictions. You can download Win 10 Manager from the official website.
Features of the program interface
The application has 7 screens, each of which contains various useful software. Let's look at each screen in more detail:
Information. You can create WIndows recovery points here, manage the processes of the operating system, clean the operating system of unnecessary files, diagnose system performance, find out detailed information about your personal computer.
Optimization. This category is responsible for performance tuning, you can manage Win launches, configure the system boot menu, manage system services.
Clearing. The category is responsible for disk space, you can permanently delete programs from the computer, find duplicate files, clear the registry of invalid and outdated keys, defragment the computer's hard disk.
Customization. Here you can manage the context menu of the operating system, pin a folder to the taskbar, edit shortcuts on the desktop, configure Windows programs.
Safety. This category is responsible for the security of your operating system, you can control access to hard drives, block important system functions, restore deleted files and folders.
Net. This is where the network is configured, you can configure browser settings, edit the host file, manage wireless networks and network connections.
Utilities. In this category, you can split files into several, copy files, manage the system registry and drivers. You can manage the scheduled tasks of the system.
The optimizer for Windows 10 is one of the most effective ways to increase computer performance. In Windows 10 Manager there are about 30 useful utilities that you will definitely need.